Queen Crew
Here is a list of famous people from Queen Crew. I never seen something like this on the internet and think Queen fans must to know their names. They are talented people also should not be forgotten.
If anyone have an additional information on them or photos please send it to me.
Thanks a lot to Peter Hince - Queen roadie and great photographer - for exclusive photos and information.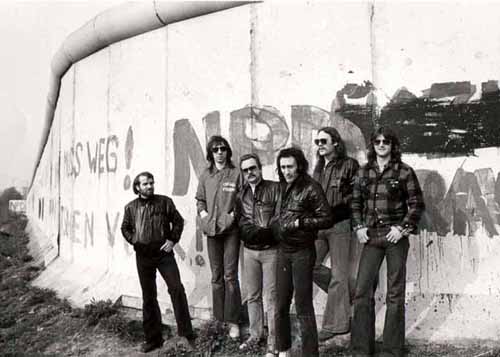 Berlin westside wall 'hooligans' (1978): Bob 'Seawolf' (Stage set carpenter 1977 - 1978), Peter Hince, Brian 'Nudger' Spencer (Monitor mixer 1975 - 1979), Chris Taylor, Trip Khalaf, Richie Anderson. Photo courtesy by Peter Hince
Anderson, Richie (Big Rich)
Brians Roadie (1975 - 1978)
photo
Now working with computers in the UK
Anthony, John
Producer and sound engineer (1969 - 1974)
Baker, Roy Thomas
Producer (1971 - 1979)
photo
Beach, Jim (Miami)
Business manager (1975 - present time)
photo
Still Queen manager
Brown, Pete
Co-ordinator, assistant (1975 - 1979)
photo
Left Queen in 1979 to manage comedy acts and some musicians - he was very succesful but tragicaly died in the early nineties.
Collins, John (Collie)
Truck driver (1982 - 1986)
photo
Recruited for Queen Crew by Ratty. Spent many years working for Eric Clapton and now lives in Arizona USA
Devenney, Jim (Mary)
Queen sound monitor engineer (1978 - 1986)
photo
Still working for Clair Brothers Audio in US as sound consultant and installation advisor
Dolezal, Rudi
Queen promos director (1985 - present time)
photo - url
Still director and producer
Edney, Spike (The Duke)
Keyboards on Queen concerts (1984 - 1986)
photo - url
Touring with Brian May and his own Spike All Star Band
Fannelli, Joe (Liza)
Band assistant ( ... - 1991)
photo
Dead
Fisher, Morgan
Keyboards on Queen concerts (1981 - 1982)
Living in Japan
Freestone, Peter (Phoebe)
Wardrobe assistant, Freddie's personal assistant (1979 - 1991)
photo
Have a hotel in the UK
Giddings, Terry
Freddie's security and driver (1984 - 1991)
photo
Now working for top businessmen as driver
Glover, Julie
Queen productions, Brians manager (early 80's - 1999)
photo
No longer works for Brian but with her husband who is involved in the music Biz
Goldsmith, Harvey
Queen promoter (1985 - 1986)
photo
Gowers, Bruce
Early Queen promos director (1972 - 1976)
Gray, Richard
Queen art director and photographer (1986 - present time)
photo
Still in design and photography
Gunn (Smith), Jacky
Fan club secretary (1982 - present time)
photo - url
Still Queen Fan Club secretary
Harris, John
Sound engineer, assistant (1969 - 1979)
photo
John Harris was taken seriously ill at the end of the 1977 US winter tour and replaced by Trip Khalf. He returned for the 1979 UK crazy tour but after that parted company with Queen. He is believed to have returned to teaching.
Hince, Peter (Ratty)
Roadie, photographer (1973 - 1985)
photo - url
First worked with Queen on the 1973 'Mott the Hoople tour'. Was offered a job in 74 but joined full time in 75 during the recording of 'Night at the opera'. Left Queen Productions in 1985 to start career in photography. Was convinced by Fred to do the final magic tour in 1986 as a freelance. Now a sucesfull photographer and soon to be best selling writer!
Hyatt, Sally
photo
Administrative assistant
Now working now for Roger Taylor
John, Phil
Rogers roadie (1975 - … )
Has antiques and shop display business in London
Khalaf, James (Trip)
Sound engineer, producer (1977 - present time)
photo
Trip Khalf was the head sound engineer for 'Clair brothers' - Queens sound company and first toured with Queen in the first 77 US tour. He became Queens live sound engineer (as a freelance) and continued until the final 86 tour. He also was the engineer and tour manager for Brian May. Still works freelance as sound engineer for top acts.
Mack, Rheinhold
Producer, sound engineer (1980 - 1986)
photo - url
Mack lives in Los Angeles and still works as a record producer and engineer
Mallet, David
Queen promos director (1984 - 1992)
photo
Still film director
Mandel, Fred
Keyboards on Queen concerts (1982)
photo
Still lives in Los Angeles and is in demand as a top session player.
Meade, Roxy
Press representative
Metcalf, Kevin
Sound engineer
Moran, Mike
Queen and Freddies co-author (1987 - 1991)
photo
Moseley, Diana
Costumes designer (1984 - 1991)
photo
Nelson, Jack
U.S. promoter(1972 - 1975)
photo
Still managing bands
Prenter, Paul
Personal manger, coordination (1977 - 1986)
photo
Dead (1991)
Preston, Neal
Queen photographer
photo - url
Lives in Los Angeles and still takes pictures
Puddifoot, Douglas
Photographer (1970 - 1974)
BBC head cameraman
Reid, John
Queen manager (1975 - 1978)
photo
Was famous for managing Elton John. No longer manages Elton but recently was the producer of 'The Graduate' - a play in Londons west end about the famous sixties film with dustin Hoffman. Kathleen Turner played 'Mrs Robinson' and has now been replaced by Jerry Hall. The play is an enormous success and still running.
Rhodes, Zandra
Costumes designer (1972 - 1976)
photo
Still one of the top dress designers
Richards, David
Queen Producer (1979 - 1996)
photo
Owner of Montain Studios
Rock, Mick
Photographer (1973 - 1975)
photo
Rossaher, Hannes
Queen promos producer (1985 - present time)
photo - url
He's still director and producer
Sheffield, Barry
Boss of Trident Productions (1972 - 1975)
Sheffield, Norman
Boss of Trident Productions (1972 - 1975)
photo
Director of computer company
Shirley-Smith, Justin
Sound engineer, producer
Working together with Brian May
Stickells, Gerry (Uncle Grumpy)
Queen tour manager (1976 - 1992)
photo
He was Queens Tour manager from 76 until 86. He did every tour and his 'GLS Productions' office in Los Angeles was Queens 'unofficial' US office. Currently still living in LA and in semi retirement after a surprise party held in April 99 in San Francisco. Party was hosted by Steve Miller, who Gerry has worked for and known since the sixties and his time with Jimi Hendrix. Many of Queens old Crew, production people etc attended. Brian May was the only member of Queen to attend and played with Steve Miller and his band.
Stone, Mike
Sound engineer and producer
Taylor, Chris (Crystal)
Roger's personal assistant, band coordinator (1979 - 1986)
photo
Now lives in Australia and has his own gardening business.
Taylor, Gavin
Queen film director (1985 - 1992)
photo
Wells, John (Tunbridge)
Security
photo
Young, Richard
Queen photographer
photo
Still in photo business
Zellis, Brian (Jobby)
Guitar technician, computer programming (1978 - 1993)
photo
Out of business. Heard to be doing something with the Internet